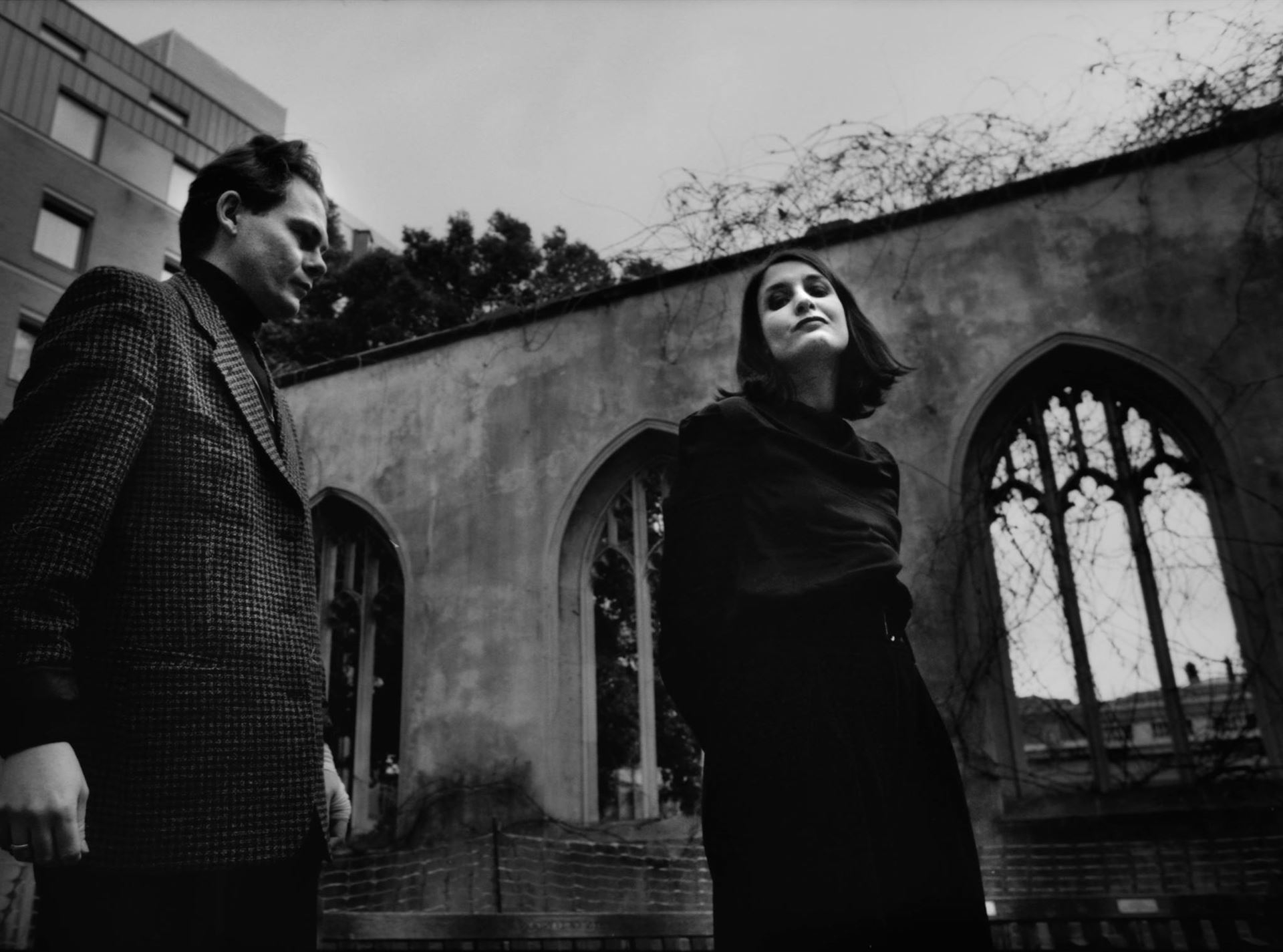 Lebanon Hanover. Official Homepage.
An ice cold reply to the alienated world coming from two warm beating hearts. The duo of Larissa Iceglass and William Maybelline appear as true romantics of the modern age, admiring William Wordsworth, fascinated by the beauty of art nouveau aesthetics, exploring British seashores and forests at night as well as inspired by the urbanism of Berlin.
by J. Mikulskis / Photo © Caroline Bonarde
Lebanon Hanover. Digital Download.
Lebanon Hanover. Latest News.
Tue, 16. Nov 2021 from LH

Shows this weekend: Rotterdam & Oberhausen postponed

Because of the new Dutch Covid-19 regulations, the 2 shows in Rotterdam this weekend have been postponed to 15 April 2022.
Rotterdam, we'll finally see you next April at Baroeg (event info).
Take care until then!

Update: Thur, 18. Nov 2021 from LH

Dear everyone,
For personal & medical reason, we are not be able to perform tomorrow night at Kulttempel (event info).
We were truly all very much looking forward.
We will be coming on Saturday, 14 May 2022 and we hope you will join us for a special night.

Stay positive, we will be coming!
Lebanon Hanover
Thur, 4. Nov 2021 from LH

Upcoming November dates

On many of these shows we'll have some new shirts / longsleeve and also Why Not Just Be Solo vinyl is finally available again.

A small stock of these new items will be already available on Bandcamp Friday, 5 November in our shop.

5 Nov • Zurich
6 Nov • Lausanne
10 Nov • Vilnius (just a few tickets left)
11 Nov • Tallinn
19 Nov • Oberhausen (just a few tickets left)
20 Nov • Rotterdam (sold out)
21 Nov • Rotterdam
27 Nov • Dublin (just a few tickets left)
28 Nov • Belfast
Tue, 2. Nov 2021 from LH

New video "Come Kali Come"

New video Come Kali Come taken from our latest album Sci-Fi Sky out now!

Enjoy our bewitching Sci-Fi Sky anniversary video.
Really thrilled about Tamás Mesmer and his entire crew.
Infinite gratitude!
Lebanon Hanover. Live Shows.
Sci-Fi Sky • Live 2021

27 Nov • Dublin
postponed to 14 April 2022

28 Nov • Belfast
postponed to 13 April 2022

3 Dec • Strasbourg

4 Dec • Wasquhal / Lille